Are You Following the Independent Handbag Designer Awards?
The Independent Handbag Designer Awards in New York City are right around the corner! We live for independent designers and want to spread the word on some of our favorite stunners. Each of the designers have inspiring stories about coming up as aspiring designers and demonstrate their commitments to sustainability and social responsibility. We love that sustainability and social responsibility are becoming the standard instead of the exception, slowly but surely.
"BEST RETAIL BAG" FINALIST ELLIA WANG
THE SHELL WRISTLET
If you're looking for something that sets you apart, here it is. This pint-size conversation starter is made of premium Italian leather and gold hardware with unexpected leather layering detail. Ellia designed and made this handbag for Macy's Workshop as part of her learning strategy to start to reach retailers with major distribution networks.
Ellia is originally from Guangzhou, China but lives and works out of Savannah, Georgia. Guangzhou is a megahub for fashion and accessories manufacturing. But instead of sending her designs to China for production, she personally makes her bags out of her Savannah studio. We love a great success story for an independent Chinese designer who is going against the grain by distancing herself from mass production and white labeling which, in our opinion, dampers authenticity and uniqueness in favor of profit margins. This bag is just a hint of what's to come. Watch out for Ellia Wang!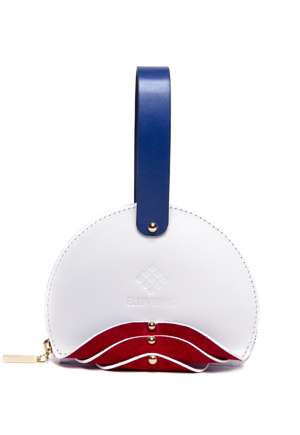 "MOST SOCIALLY RESPONSIBLE HANDBAG"   FINALIST VALERIA SILVA
RAFAELA BUCKET BAG
Ahh, do we love a classic design with a modern twist. This black and white leather bucket bag is perforated by hand and lined with a fuchsia-dyed leather for special added detail. Valeria Silva is a Salvadoran designer who is building a small network of artisans from rural El Salvador. These underappreciated artists previously have not had access to work and income that is adequate for their expertise. We've seen a little bit of life through their eyes while on Habitat for Humanity builds and applaud Valeria for using her design and marketing background to help improve their quality of living. Valeria's mission is to stay true to her roots and give back to her home country and fellow citizens in every way possible.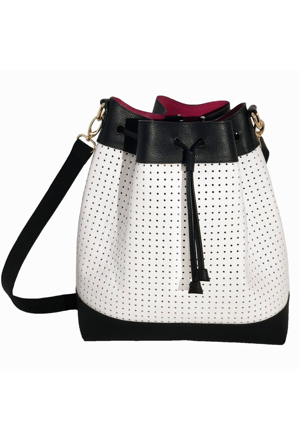 "MOST SOCIALLY RESPONSIBLE HANDBAG" FINALIST ILEANA QUINONES
NOLITA ROMANI BAG
Close your eyes. Picture yourself walking through your favorite vacation beach town. What does the bag you're carrying look like? We're thinking it looks a little like this one. If there were a category for most eco-friendly handbag, we'd put this one in it. It's made from water hyacinths, naturally dyed poms, and bead strands. The rich blue color of the embellishments is stunning against the organic texture and tone.
Ileana's bags are made in Cambodia, an area she visited as an homage to her late father, a Vietnam war vet. She fell in love with the country and the spirits of all the women she met while she was there. She found so many had great yet underutilized talents with in handmade arts and crafts. This inspired to her to found Artisans of IQ, a socially responsible and sustainable luxury accessories brand for the empowerment of women artisans.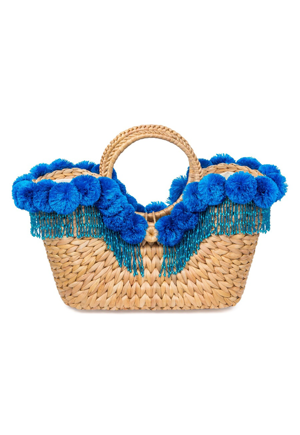 There are so many amazing silhouettes and stories of the 2018 finalists. We hope you've enjoyed a sneak peek! Let us know what you think. All photos courtesy of www.thehandbagawards.com, where you can find more details and check out the other finalists.  
CLICK HERE TO VIEW OUR INDEPENDENT DESIGNER HANDBAG COLLECTION